Back to Psychology of Religion main page
Back to the Psychology of Religion Obituaries Page
James E. Dittes 1926-2009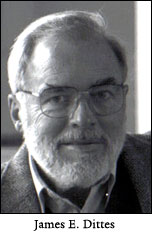 James E Dittes, the Roger J. Squire Professor Emeritus of Pastoral Theology at Yale Divinity School and Professor Emeritus of Religious Studies at Yale University, died on Monday, August 24, 2009, at the Whitney Center Health Center in Hamden, Connecticut. His life was shortened by the increasingly debilitating effects of Parkinson's disease, originally diagnosed in 1994.
He was born on December 26, 1926 in Cleveland, Ohio, the only child of Mercein and Mary Dittes. His father, who was of German descent, dropped out of high school to become a carpenter and was a junior high school teacher in industrial arts when Jim was growing up. His mother, born Mary Freeman, was of English descent. She was a soloist in the choir of a Baptist Church in Cleveland, and although he was baptized as a Presbyterian, this was the church Jim attended as he was growing up.
He began undergraduate studies at Oberlin College in 1944 and received his B.A. in 1949, his undergraduate career having been interrupted after his freshman year by his enlistment in the United States Navy. He was a radio technician on a tugboat in the South Pacific from January 1945 through August 1946. His undergraduate major was in French and American literature, but he took a course in his senior year in psychology on human motivation. This course stimulated his interest in psychology.
From Oberlin he went directly to Yale Divinity School in 1949. After a year's study, he took a position teaching science to middle school boys in a missionary school in Talas, a remote village in central Turkey. During his two years of teaching in Turkey, he read all the psychology books he could get his hands on from a library in Ankara established by the U. S. State Department. Toward the end of his two year service in Turkey he applied for admission in graduate studies in psychology at Yale University and began Ph.D. studies in the fall of 1952. He continued to take courses in the Divinity School, dividing his course work in the two programs more or less equally over the next two years.
Dittes received his B.D. in 1955 and completed his Ph.D. in 1958. Following the retirement of Hugh Hartshorne, who taught psychology of religion at the Divinity School, he was invited to teach courses at the Divinity School while completing his doctoral studies. When he completed his doctorate, he was appointed Assistant Instructor of Psychology of Religion and thus began a teaching career at Yale that spanned 47 years (1955-2002). When he became a full professor with tenure, he was also appointed to the Department of Psychology and the Department of Religious Studies. He was Director of Graduate Studies in the latter from 1969 to 1975, and intermittently from 1985-2001, and Chair of the Department from 1975 to 1982.
Married from 1948 to 1983 to Frances Skinner Dittes, he became father to four children in the space of five years. Larry, the first and only son, was born in 1953. Three daughters, Nancy (born in 1954), Carolyn (1956), and Joanne (1958) followed. Larry, who was born with Down syndrome, died in 1959 of heart complications related to his congenital condition. Not much given to book dedications, Jim broke form with the publication of The Male Predicament (1985), which is dedicated to his father Mercien and his son Larry, with these words, "We never had the chance to say these things to each other."
Following his divorce in 1983, he was married to Margaret Rush House from 1984-1986, then married Anne Hebert Smith in 1987. At the time, Anne, a therapist and a dancer, had a private practice in dance therapy. In the 1990s Anne and Jim conducted workshops and retreats, did joint marriage counseling, and co-taught courses on gender issues and pastoral counseling. His book Pastoral Counseling: The Basics (1999) is dedicated to Anne, "extraordinary witness."
His official obituary, a work of loving collaboration by his wife Anne and his daughters Nancy, Carolyn, and Joanne, has this to say about how he touched the lives of others through his teaching: "Jim was a teacher at heart. His ability to push people to the edge of emotional comfort challenged them to expand their thinking and feeling. Paradoxically, he considered ministry to be 'the art of making space for others to grow,' and had a deep acceptance of others just as they were." It notes that he was also an author: "Jim wrote tirelessly, producing many books and articles for pastors-in-training, ministers in the field and for congregations, touching countless lives." It goes on to say that he had served as editor of the Journal for the Scientific Study of Religion and as the President of the Society for the Scientific Study of Religion, received many prestigious awards, including the Guggenheim fellowship, and was "an advocate for institutional reform."
But who was Jim Dittes the person? "He was," it notes, "a quiet, reserved man, with a quick sense of wit, never ceasing to think; many who met him were mystified by his silence. He was sensitive and open, always seeking new perspectives." Observing that he also "embraced adventures and unique encounters" of multiple kinds, the obituary recounts his early travels in the Middle East in the early 1950s, his two sabbaticals in Rome during which he took his family to northern Africa and every European country with the exception of Finland, and his travels to many countries in Asia and South and Central America in later years.
On the other hand, and especially as his disabilities progressed, "Jim knew how to slow down. He listened to classical music and opera, 'Wait Wait. . . Don't Tell Me,' and Daniel Schorr. He relished the ordinary goodness of life, such as homemade bread, Italian cheese, and quiet conversation. He enjoyed card games, scrabble, Connect 4, and chess with his grandchildren. In the last years, swimming became a joyful part of his life."
His joy in swimming was the inspiration for the following poem written by Anne Hebert Smith, his wife and loving companion in the latter years of his life, in May 2009, three months before his death.
Permanently In the Health Center
I read poems to him from Mary Oliver
We listen to Pete Seeger's song
About "kisses sweeter than wine" and
Cris Williamson's "Like a light in the darkness,
I'll hold you awhile. . . "
And we hold each other for awhile.
I say good night.
It's not enough.
I go home.
I e-mail, I try to read, I watch TV.
I call my sister, my daughters, my son,
It's not enough.
It's late. I go to bed and then I remember:
We are running behind schedule,
No aides are in sight,
He is going to miss swim therapy--
(His favorite event of the week)
He is crestfallen.
I lean closer and whisper:
"We can do it. We can get ready in five minutes."
I crouch beside the wheel chair and pull and tug
at his shoes and tight socks,
I silently bemoan my weakened hands,
I stand. I push and pull--
We bend and twist and struggle together,
Finally off comes the shirt, undershirt, pants, and 'pull-ups."
On go the new green swim trunks. Ready!
I hear him say something softly:
"You love me so much."
It is enough.
Those of us who were his students, who met him at professional society meetings or who met him through his writings knew that here was a man who truly loved to swim in the deep end of the pool and was confident that others could do the same and survive. After all, he had been a tugboat radio technician during World War II and, as he noted in his "vocational narrative" (written for a special issue of Pastoral Psychology in recognition of his professional work and legacy) the very realization that he was responsible for the fates of others and yet was uncomfortably aware that his training was all-too-brief and the equipment he was given to use was both "mysterious and unreliable" was an encounter "in primitive raw terms" with "the paradox and the mission, the vocation, of religion, the vocation of psychology, and my own vocation" (November 2003, p. 10).
Moreover, he began his first book on ministry-- Minister on the Spot(1972)--with the story of the man whom Jesus met lying beside a pool where a multitude of invalids, blind, lame, and paralyzed persons had congregated in order to experience its healing waters. He began his introductory chapter titled "38 Years on the Verge" with these words:
Only a few steps away, in the surging waters of the pool, there is healing, vitality, strength, a new life. But the man lies beside the pool, separated from health and restoration by only a few steps, but separated also, decisively and tragically, by his own resignation to what he thinks is his destiny. "Vitality is there, and I am here, and we are separated. Perhaps trivially, but unbridgeably. I don't have the help I need to change things, and anyway somebody else always beats me to it. My lot is to be here, on the verge, not there in the midst of vitality. Other people are in the swim, but I must watch from the edges" (pp. 1-2).
And how does Jesus respond to him?
Jesus' answer seems to be something like this: While you are waiting and watching and ruing the distance between yourself and immersion into the creative and healing forces, while you may feel on the verge, you are really already fully in the midst of these forces. . . . When you feel most immobilized before urgent needs and expectations--a minister on the spot--exactly then and there you may be in the best position to make your move, to minister on the spot (p. 3).
By now, the reader is aware that this is not going to be your typical book about how ministers are healing agents engaged in emulating Jesus, the consummate healer. On the contrary, ministers are the paralyzed one whom Jesus had stopped to inquire about, wondering, perhaps, why the poor devil had been laying there so long and why he wasn't getting what he had come for in the first place? The meditation continues:
Thirty-eight years must be close to the average length of one's ministry. How many of those years are spent on the verge? How many of those years are spent waiting and watching, waiting for the extra help, the extra training, the extra experience, the right moment, the right circumstances, which will immerse one fully in God's healing work? How much of a day, how much of a career is spent watching from a distance, perhaps great, perhaps tormentingly small, while others seem to be fully immersed in significant ministry? How many of these years are spent waiting with the rueful sense of separation between oneself and the significant currents of events in God's world? (p. 3).
For forty-seven years, Jim Dittes encouraged us to believe that we were already where we could do what we were meant to do, that we were already equipped to do it, and, if we looked more closely at what we were doing, we would realize that we were already doing it. He taught us this, and we knew we could trust this teaching because this is how he lived his own life. He was not one to say, "Here, let me show you" and he was certainly not one to say, "Let's do it together because that way I can help you learn to do it right." But we knew in our hearts and minds that his disposition not to force himself upon us through words, even words of encouragement, was his way of saying, "Of course you can do it, and you don't need me to tell you so."
Near the end, he was the one who not only needed the encouraging word--"We can do it"--but also the physical assistance that the man in the story needed in order to get into the healing waters. But had he not also taught us through his writings, his self-demeanor, and what we knew--or thought we knew--of his own personal struggles, to accept, even to embrace our vulnerabilities? And as Anne's poem reveals so movingly, he was also the one who on this occasion was deeply attentive to the meanings and intentions behind these words and acts of encouragement. (He taught us this too.) Yes, it was important to him to get into the pool that day. But far more important was the fact that he was loved "so much" and could find the words to say as much.
Jim Dittes "was a quiet, reserved man" whose silences were sometimes "mystifying" to others. In a professional world of noisy, gregarious men, he was a man of few words--but, as Anne's poem says for herself, and for all of us who knew him, they were "enough." In fact, to invoke William James' suggestion in The Varieties of Religious Experience that God is "the more" which is operative in the universe outside of us but with whom we can keep in working touch, Jim's words were more than enough . It is no exaggeration, then, or mere cliché to say that he was--and continues to be--a godsend.
Donald Capps
Editorial Board Member
Pastoral Psychology
Special thanks to Professor Capps for permission to share this eulogy.
---